Client Examples for: Airport Advertising
examples for OOH at airports
Airport advertising reaches all types of people before and after their flights.
Airport media is visible to all travelers (and visitors) – as they walk through the concourse or terminal to the departure gate, or as they return from a trip to baggage claim.

Here are some airport campaigns we have implemented for our clients. Enjoy it!
Ataccama Software realized a digital screen campaign at Barcelona Airport. A 10-second clip was placed …
Kerala Tourism had an eye-catching product advertising campaign at Paris airport. In collaboration with …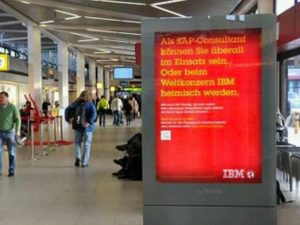 Together with the agency SEuro RSCG Riley, we showcased IBM's advertising on City Light posters, promoting …
At Munich Airport (Franz Josef Strauß), together with the agency TUG Agency from London …
In cooperation with Aragorn Groupe Ltd., we realized an advertising campaign for Nokian Tyres …
Fancy more implementations?
Do you fancy more implementations of OOH advertising? Our OOH media offers you some opportunity to present your brand to a wide audience. With our support, you can effectively communicate your message and reach out to potential new customers.
We offer various advertising surfaces, including bus advertising. For example, we have already worked with "Original Globoplay."
Or digital billboard advertising, such as for "Beluga Vodka" with an oversized video wall directly on the "Ku'damm Berlin". Furthermore we also offer taxi advertising and much more.
Take a look at our further other customer examples and get inspired!